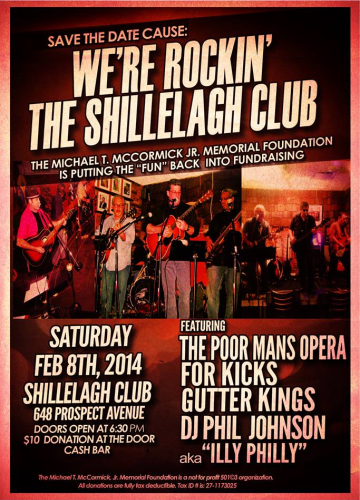 On Saturday Feb 8, the Shillelagh Club of Essex County will be hosting a benefit to support funding of scholarships in memory of our neighbor, Michael T. McCormick, Jr., who was taken from us too soon. Please join us for this worthy cause.
Here's the latest lineup: First, classic rock with our friends 4Kicks – then, your pals The Gutter Kings turn up the heat with more guitar-slingin' goodness, followed by even more rock and roll madness with The Poor Man's Opera,
DJ "Ill Phil" Johnson will be bustin' out his original hip-hop jamz between sets.
Doors open at 6:30PM – only $10/person (tickets available at the door). Come out and have a good time!
Shillelagh Club
648 Prospect Ave.
West Orange, NJ 07052
973-325-9338
Click here for map & directions
Click the flyer for a larger image.
On Facebook? Join the event here.