Thanks everyone who came out to the Shilleleagh to support West Orange baseball, and thanks to DJ "Ill Phill" and the always-rockin "For Kicks" (or is it 4Kicks? I'll have to ask them).
Here is our set list: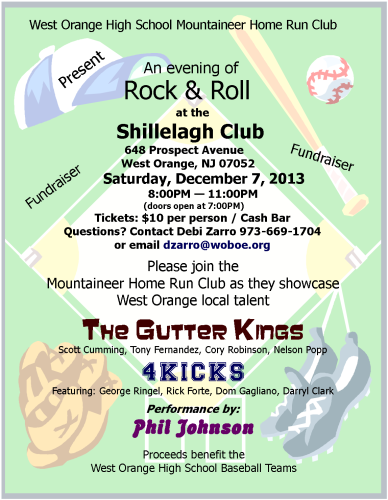 Communication Breakdown (Led Zeppelin)
Rockaway Beach (Ramones)
Crosstown Traffic (Jimi Hendrix)
Baby Blue (Badfinger)
She Said She Said (The Beatles)
Girlfriend (Matthew Sweet)
Sweet Emotion (Aerosmith)
What Is And What Should Never Be (Led Zeppelin) into..
War Pigs (Black Sabbath)
Strutter (KISS)
Signed, Sealed, Delivered (Stevie Wonder)
Are You Gonna Be My Girl? (Jet)
Let's Spend The Night Together (The Rolling Stones)
The Real Me (The Who)
Here's where memory gets tricky…
After Midnight (Eric Clapton)
No Matter What (Badfinger)
Tears Of A Clown (Smokey Robinson)
Thank You Girl (The Beatles)
So Lonely (The Police)
Highway To Hell (AC/DC)
Let It Rain (Derek And The Dominos)
Ticket To Ride (The Beatles)
Rock And Roll (Led Zeppelin)
We had a great time, hope you did too! If you have any pics or video of the night, be sure to share it on our Facebook page!