On Saturday July 13 from 3pm-7pm, the Shillelagh Club of Essex County and the West Orange Elks will be hosting a benefit to support and raise money to ease the financial strain on the Vandemark family whose daughter, Caroline, recently lost her battle with brain cancer. The event will be held at the Shillelagh club (648 Prospect Ave) and the cost will be $25 dollars a person.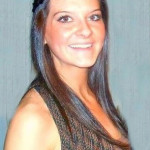 Those in attendance will enjoy good food, great music, and 50-50 raffles. We hope that you can make it out to celebrate Caroline's life and offer support and love to her family. Bands coming out to volunteer their support for this are: Montclair's own Clockwork Agents, featuring Andy & Billy from the Flemtones as well as Gerry Griffin and Miguel Rodriguez; The Suckerman Band, featuring Harry Cirillo, CJ Sciosia, & Gerry Ross; and The Gutter Kings, featuring Scott Cumming, Tony Fernandez, Cory Robinson & Nelson Popp… not to mention more surprises.
Caroline was diagnosed with a rare form of brain cancer in June 2012 and fought bravely through surgeries and treatment over the past year. On June 26, 2013 she passed away surrounded by loving friends and family. Caroline, who grew up in West Orange and Caldwell, was a beautiful, charming, and intelligent young woman, who had recently graduated from East Stroudsburg University. She will be missed dearly and remembered by all those who had the chance to know her.
Shillelagh Club
648 Prospect Ave.
West Orange, NJ 07052
973-325-9338
Click here for map & directions
Please come out and show your support on Saturday, July 13! If you cannot make it but would like to donate to Caroline's family, donations can be sent to:
The Caroline Vandemark Fund
c/o West Orange Elks
424 Main Street
West Orange, NJ 07052
On Facebook? Join the event here.