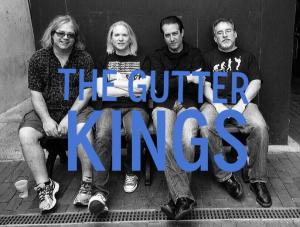 The Gutter Kings are a New Jersey-based rock band, specializing in the classic rock of the 60s, 70s, and 80s. We throw in some newer stuff too. We are four experienced musicians who love to play.We all sing, and we bring our own garage-y style to the songs we cover, whether it's Beatles, Zeppelin, Motown, whatever… You'll always have a good time at a Gutter Kings show!
Check out some of our audio and video samples!
NOTE: Our Jan 7 gig @ Russian Hall is now JAN 6 for ACOUSTIC FRIDAY. Come check us out THIS FRIDAY, it's our first time there as an acoustic show!
We will be rockin' full-on electric-style on Jan 28 at Core's Tavern in Bloomfield!
Upcoming dates are in the box at upper right.
Check here and our FB page for the latest news and pics…