The Gutter Kings are a New Jersey-based rock band, specializing in the classic rock of the 60s, 70s, and 80s. We throw in some newer stuff too. We are four experienced musicians who enjoy playing music, and we love it when a crowd responds to our sound.
We all sing, and we bring our own garage-y style to the songs we cover, whether it's Beatles, Zeppelin, Motown, whatever… You'll always have a good time at a Gutter Kings show!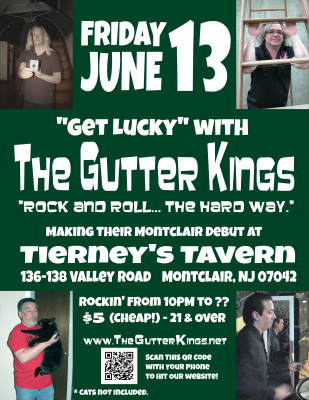 We are excited to announce that
The Gutter Kings are coming to Tierney's!
On
Friday June 13,
your friendly neighborhood
Gutter Kings
are bringing our special blend of rock madness to the historic
Tierney's Tavern
in Montclair! We go on at 10, but come out early for great food downstairs, awesome bar upstairs (guess where we'll be?)!
Only $5/person at the door. It's Friday The 13th – come on out and "get lucky" with us!!   Tierney's Tavern
136-138 Valley Road
Montclair, NJ 07042
(973) 744-9785
Join the Facebook event here.